How does your website score?
Get a free assessment of your website in less than 2 minutes.
Test your website now:
What do you get in your free website assessment?
We analyze your website against 20 unique tests to measure its effectiveness in design, usability, search and marketing.

Design & Accessibility
Does your website offer a rich user experience on desktop, tablet and mobile devices?

Website effectiveness
Are you keeping your website fresh, balanced with the right amount of content?

Online Presence & Marketing
Is your business found online? Did you link your social media accounts to your website?
Why should I analyze my website?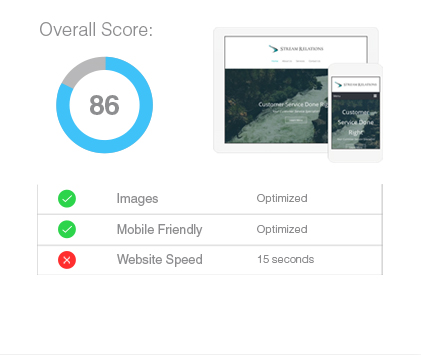 Your website is one of your most important marketing tools. When it's performing at maximum efficiency, it can deliver a stronger return on your marketing investment. On the other hand, it may fail to deliver the results you need if there are deficiencies in design and content. A website performance test can show you the strengths and weaknesses of your online presence.
Our free site audit is powered by industry-leading website analysis tools. Once we have conducted a site performance analysis, you'll have the information you need to maximize your website's effectiveness.
Want one of our Digital Consultants to conduct an in-depth assessment of your website?
Call 0800 092 9851 outside UK: +44 (0) 207 015 1782 to speak with a representative.